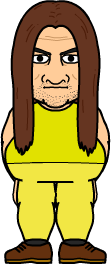 Beef Stew is Timmy Lardo's older and rather smarter cousin. Beef Stew is 58 years old and is a single. He was first introduced in the episode titled WallMart. His first speaking role was in the episode titled Egypt. Beef Stew's real name is Dan Hopkins. Beef Stew is Dan's stage name when he was rapping in the 80's.

Edit
In the series 15th issue `` Big News Ma Part 1`` Beef Stew is revealed to be engaged to Roxanne whom he met while being stuck inside the Mcdonalds Play Place Structure. Beefette, Beef Stews mother first apperead in `` Big News Ma Part 1``. Beef Stews father, Beef Patty ( deceased) died when Beef was 40 while enjoying his ten thousandths Big Mac of the year on the fourth of July. Beef Stew and Roxanne had a baby, Joey Lardo Hopkins. Info on Beef's baby can be seen via facebook.
Apperances
Edit
Wall Mart
Egypt
It's A Farting War
That's Just Wrong
Big News Ma P1
Ad blocker interference detected!
Wikia is a free-to-use site that makes money from advertising. We have a modified experience for viewers using ad blockers

Wikia is not accessible if you've made further modifications. Remove the custom ad blocker rule(s) and the page will load as expected.